VIP Pedicab -Convention Media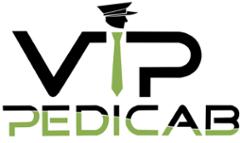 2400 5th Ave
#421
San Diego, CA 92101

Pedicabs are just perfect for any type of advertising. They offer a much longer exposure time for your ad and this gives your business an amazing opportunity to really sell potential customers. They are, in fact, much more effective than buses, taxis and billboards.
Take your products and services to the streets where the crowds are by placing your ad on one or more VIP Pedicabs. This unique form of advertising costs much less than newspapers, magazines, radio and TV. It can generate excitement about an upcoming product launch, movie or song release or just about anything you can imagine.
Many of our past advertisers are national brands that you know and love such as HP, Orbitz, McDonalds, Sega, Showtime and ABC, just to name a few. Companies large and small are realizing the huge potential of pedicab advertising. It's economical and extremely successful at promoting everything from an upcoming store openingto a new movie release. Many companies attending shows at the San Diego Convention Center utilize this fresh, innovative method of advertising to reach the world with their message.
Reasons to Advertise on Pedicabs
With pedicab advertising, you can reach thousands of potential customers while spending much less than you would with magazine ads, billboards or newsprints.
Get more traffic to your convention center exhibit booth. This is a great way to let people know where to find your products before they walk into the exhibit hall.
With pedicab advertising, you can get double exposure by having your advertisement strategically placed on our pedicab bikes, while having our professional drivers wear a t-shirt or hat emblazoned with your company's logo.
Alert decision-making prospects to your products and services as soon as they get into downtown San Diego. Before they even step into the convention center or hotel, they will already be aware and eager to find your booth.
You can offer free pre-paid pedicab rides to your sales prospects as a fun treat. Convention visitors love these free rides and your products get ultimate exposure.
Our drivers can distribute flyers, coupons, business cards, brochures, samples or other marketing materials to your prospects and convention center attendees at various locations outside the venue.
With pedicab advertising you can deliver your message in a fun and memorable way. Pedicab advertising is great way to extend your reach beyond the booth. Use pedicab advertising to stand out from the crowd!
Pedicab Advertising Options
- Wheel Ads
Our Wheel Ads are very popular because they are so unusual and really get noticed. You can display your message, company logo or ad on a 21″ diameter wheel covering.These catchy ads are a fun way to give your products and services the attention they deserve.
- Panel Ads
Panel ads give you a wider canvas to advertise upon. These sectionalized covers fit across the back side of the cab giving you lots of room to display colorful images that get noticed. Panel ads are highly visible to both motorists and pedestrians. These sensational rolling billboards offer maximum exposure for your brand.
- Field Marketing
Our young, enthusiastic team will distribute flyers, coupons, brochures or other marketing materials to your prospects in and around the convention center. Make sure everyone knows about your fantastic trade show exhibit. Draw in large crowds to your convention show table. Tell the world about your new TV show premier.
- Sponsored Free Rides
Tourists and locals alike enjoy sponsored free rides. Your message will be displayed in vibrant colors on our pedicabs, which will be available to attendees of conventions, to the public, or to any clientele that you wish. The hours can be customized to fit your needs.
- 3 sided AdBike
Ad-Bikes were created as a unique and eye-catching form of outdoor mobile advertising. Your message is quite literally driven to your target audience. This highly original idea always attracts the eye of tourists and locals, giving you an excellent return on your investment.
- 3 sided Digital-AdBike
Our attention-grabbing 3-sided digital media bike has three 37″ HDTV monitors attached ateach side and the back. These screens can play videos and music. If your studio has a new movie coming out, a new TV show or if you are releasing a new music video, this will alert and delight audiences.
We can be part of any targeted pedicab advertising campaign during conventions, corporate meetings, weddings or other special events in San Diego County. Whether you want to advertise for a few days, a week, or even months, we can customize a campaign based on your company's specific needs.
San Diego VIP pedicabs offer your company exposure for 8-12 hours a day on one or many pedicabs, depending on your needs and budget. Your ad will be seen by thousands of people all over downtown San Diego each day. There's no other form of advertising that offers such wide exposure for such low prices.
Testimonials
"We used VIP Pedicab to advertise our Internet business during a large industry event in San Diego and it really helped our company stand out from the crowd!Everyone attending the convention (along with the rest of downtown San Diego) noticed the colorful signs hanging on the bikes and the riders decked out in t-shirts advertising our company. Using pedicabs as moving advertisements turned out to be an affordable, yet fresh way to create awareness for our business. We would definitely use VIP Pedicab again!" –David Ptak |www.SolidProfessor.com
"I used VIP Pedicab for my staff day event. They took my staff of 30 all around the Gas Lamp district, helped us with a scavenger hunt and waited for us while we visited a couple of local eateries. Ali was very easy to work with and was very flexible with my ever changing needs and budget. His drivers were courteous and fun! The cabs were clean and comfortable. I would recommend using VIP Pedicab as a fun and exciting mode of transportation in downtown San Diego." - Jennifer, McDonald's USA LLC
"Using VIP Pedicab was a great way to promote our product to Comic Con attendees, and the entire process of working with the company couldn't have gone smoother. Ali was extremely helpful and always prompt to answer our questions. His crew was great as well! It would be my pleasure to work with them again in the future." – Julie Goetzen, OMG
"After Dark Films promotes Horrorfest "8 Films to Die For" in creative and inventive ways each year. Making yourself seen during the San Diego Comic-Con is a difficult task. However, speaking with Ali, the owner of VIP Pedicabs, he understood our mission and created a unique and inventive package. They enabled us to get our promotional materials directly into our fans hands, incorporate our pedicab team in our videos, while providing incredible mobile billboards throughout the entire convention in key locations. It was an absolute pleasure working with them & a thrill to have seen our Horrorfest 4 pedicab promotion work effectively at a reasonable cost. I look forward to working with them again."
-Sara Finder, Director of Horrorfest | www.horrorfesonline.com
For technical assistance, call DOmedia: 866.939.3663