FlyBy Ads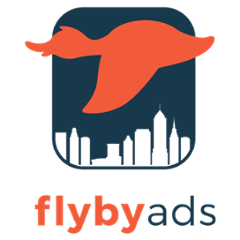 2625 West 25th Avenue
Denver, CO 80211

FlyBy Ads puts a twist on airport advertising and provides you with the largest canvas out there — industrial rooftops. Our team identifies and locates premier locations for rooftop advertising opportunities near the world's most heavily-traveled airports. Our sites attract maximum passenger views and attention as they soar overhead--or scan their social media newsfeed. You not only reach millions of people–you reach the right people.
Our patented FlyBy banner system is a cost-effective, easily interchangeable, and IN. YOUR. FACE. Turn heads with these bold advertisements.
We'll show you what your advertisement and logo could look like on a FlyBy Ad in a free mockup. That's right, see the result before you take the plunge. We look forward to turning your vision into reality.
For technical assistance, call DOmedia: 866.939.3663