Pedicab Outdoor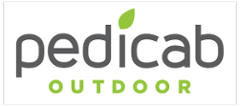 PO Box 180361
Boston, MA 02118

OUR MISSION: To enhance the consumer mobility experience by providing memorable entertainment and promoting positive brand awareness.

"WHAT IS PEDICAB OUTDOOR?"

Pedicab Outdoor takes a fresh and innovative approach to executing Out-of-Home media. It is the only mobile medium of its kind that completely surrounds consumers with a brand, allowing full interaction and the golden opportunity to effectively educate. Our mobility allows us to present your brand to a consumer in a pleasant and welcoming vibe. Most importantly, pedicabs operate solely off of human muscle power, which means that we're planet friendly, too!
"WHY PEDICAB OUTDOOR?"
Progressive strategies that produce results
Committed to a clean environment
Conveniently available Nationwide
The largest network of pedicabs available nationwide. 75+ Markets. 2000+ bikes. Custom Fabrication, Sampling, Tours, and more!
For technical assistance, call DOmedia: 866.939.3663