Viamedia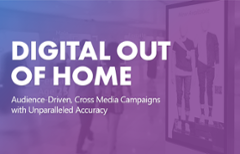 220 Lexington Green Cir # 300
Lexington, KY 40503

Viamedia

Digital Out of Home
Audience-Driven, Cross Media Campaigns with Unparalleled Accuracy
Location-based Advertising
Covering all 50 states, Digital Out of Home targets by Points of Interest (POI) & geographic areas can include congressional districts, zip codes, DMA, city, state, or a customized geofence based on campaign parameters.
Audience-based Advertising
Target by gender, age, income, & over 200 individual demographic and behavioral segments.
Contextual Advertising
Use geo-temporal information to find your audience using real-world data including where people are located or have recently visited
How does it work?
Utilizing our algorithm and automation we quickly identify and target the most relevant screens to reach your audience wherever they may go.
For every dollar spent, businesses see an average profit of $5.971
40% of adults have visited an organization's social media page or posted to their page after seeing an ad1
5 in 10 adults in the United States have used a search engine to research something from outdoor advertising in the past 6 months1
DOOH ads can increase brand awareness by 47.7%, and increase purchase amounts by 29.5%2
Brand Safe: All placements are considered brand-safe & 100% viewable
Compliment Existing Media Plans: Extend the reach of your existing media plan by targeting the same audience in a new way
Dynamic Reporting: See the location and type of screen where your ad was delivered
Improve Campaign Performance: Enhance overall brand lift with unique messaging venues
For technical assistance, call DOmedia: 866.939.3663