Mobile Billboard Miami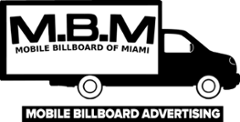 Miami Florida; Mobile Billboard truck (Static & Digital)
https://www.mobilebillboardmiami.com/truckgallery

Mobile Billboard Miami is a promotions and marketing company specializing in mobile billboard advertising through-out the eastern and central United States. We provide both static and digital-led mobile billboard trucks.

MBM is here to provide reliable and effective forms of advertisement to all of our clients.

MOBILE BILLBOARD FACT SHEET

Static Mobile Billboard Trucks
2 Side banners: 10 FT X 22 FT: Rear 3 FT x 10 FT
All units are complete with lighting for effective night time advertising.

Digital Mobile Billboard Trucks
2 Side: 7 FT X 14 FT: Rear 7 Ft x 7 FT
HD video screen. Rotate static images and video content.
All trucks are equipped with exterior speakers.

Areas Mobile Billboards Covers
Miami - South Beach- Broward / Fort Lauderdale - West Palm Beach - Sarasota - Tampa Orlando - Jacksonville - Tallahassee - Atlanta - Georgia - North Carolina - South Carolina - Alabama - Mississippi - Texas - Louisiana - Tennessee - Kentucky and More

What is the suggested time frame to reserve for a mobile billboard?
Mobile Static Billboard Truck: 48hr print turnaround

Digital Billboard Truck: immediate with availability

MBM is not a franchise, nor does it outsource!
What does this mean? You pay the lowest, best price offered.
Stop overpaying and save money for your next marketing project.
For technical assistance, call DOmedia: 866.939.3663