Cieslok Media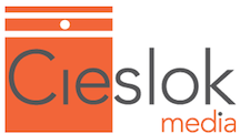 102-204 King Street East
Toronto, M5A 1J7
Canada



At Cieslok Media, we are a team of energetic people who love what we do. Together we are working to change the landscape of Out-of-Home media through innovation and creativity. Our corporate values – Tenacity, Accountability, Innovation, and Integrity – are words we live by, demonstrating our commitment to them every day through:

Ensuring we offer our clients the best in Out-of-Home real estate.
We believe the most successful campaigns use location and size to be bold and memorable. Our Out-of-Home locations are strategically selected for their mass reach and high impact, while our large-format displays are built to impress and captivate.
Embracing change and celebrating uniqueness.
We are at the forefront of OOH innovation, offering our clients new ways to showcase their brands. Our media inventory and cutting-edge technologies allow our clients to be inventive and artistic in influential ways that connect and engage with consumers.
Focusing on achieving outcomes and exceeding our clients' expectations.
We are continuously pursuing, creating, and developing effective solutions for our client's needs. We use the latest technologies, data and analytics to drive and deliver results – from increased brand awareness to award-winning creative.
For technical assistance, call DOmedia: 866.939.3663