Panhandle Digital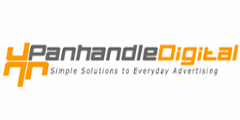 P.O. Box 9151
Amarillo , TX 79105

Panhandle Digital is a network of digital indoor billboards (TV's running advertising inside high traffic locations), in Texas. Boards are placed where customers have "dwell time" or high foot traffic, presenting clients with excellent opportunities for OOH (out of home) advertising that reaches 1000's of viewers every day, for as little as $17 a day!*

Advertising appears at ALL current locations as well as ALL new locations as they are installed at no additional charge (as designated at time of contract, may apply per market). Ads run at all locations for the allotted time (10 sec. static or 15 & 30 sec. commercials) once every rotation (approx. 6 min.). In addition, we run 2 updates per month, allowing for ad changes about every 2 weeks.

*Based on 10 second static ad w/ 12 month contract term.
For technical assistance, call DOmedia: 866.939.3663