Direction Tour Marketing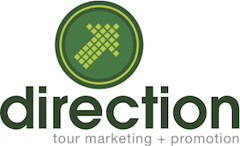 213 W Institute Pl
Ste 506
Chicago, IL 60610

Created in 1999, direction has proven itself to be a leader in the national street & guerilla marketing industry. Since then, streetmarketing has developed from its humble beginnings in punk rock DIY into a full-fledged segment of alternative marketing.
Our central role in the development of this industry has allowed us to come to understand the nuances that exist in every facet of this business. The key to our growing presence lies in our faith in the original principle that accountability is everything. direction has demonstrated its abilities time and time again with a variety of clients in a number of circumstances.
direction has evolved into a service-oriented streetmarketing company whose fundamental goal is to make our client's lives a bit simpler. By managing the secondary event elements, our clients are allowed more time with brand clients and pertient account details.
direction actively operates in markets across the country and is growing to the furthest most reaches of the event marketing world. We continue to strive to serve our clients better by utilizing a nationwide network of streetmarketing experts and years of event experience.
For technical assistance, call DOmedia: 866.939.3663