Moderne Communications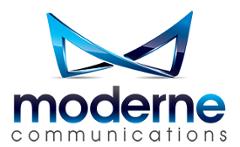 69 N Park Ave
Rockville Centre, NY 11570

Moderne Communications is an alternative, non-traditional full service marketing and media agency that splits its time between experiential marketing, guerrilla and place-based media and interactive technologies. We drive offline online and online to retail. We are completely independent and most of our work is done for AORs. We allow them to do what they do best so we can do what we do best - collaborate and execute!


Moderne Communications (the 2nd "e" is silent) takes the tough assignments and gets the work done in record time when necessary, always with great results! We love solving communications puzzles, we love creating program strategies and executing programs. We're based in NY, have a strong presence on the West Coast and have people and resources across 85 markets nationwide with local expertise where your target consumers live, work, shop, play and pray.


Since inception in 1986 we've been building the world of alternative, non-traditional marketing and have seen it grow exponentially. This is our strength...the world of viral, social media and user generated content coupled with grassroots PR stunts, Mobile Tours, Promotions, Pop-Ups, Sampling, Street Teams and Street Buzz via Sidewalk Stencils, Wild Postings and Place Based Poster Showings.


What differentiates Moderne Communications is our 25 + years of experience and the maintaining of our own Non-Traditional Place-Based Media Network. Our network is comprised of over 100,000 Independent Neighborhood Venues. We can deliver 85% + penetration access to the key demographics such as Hispanic, Urban, African American, LGBT and the general market as well.

For technical assistance, call DOmedia: 866.939.3663