Fliphound, LLC
216 N. Mosley, Suite 200
Wichita, KS 67202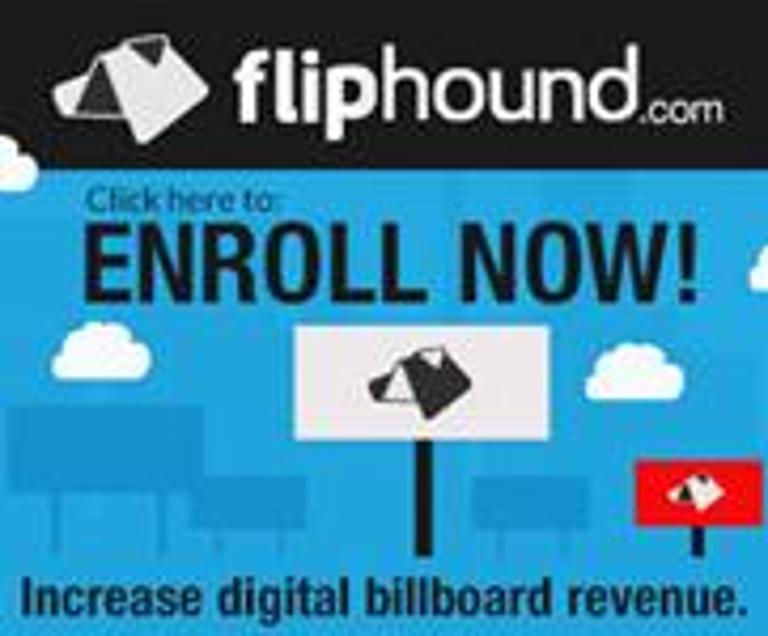 Fliphound.com – Digital billboard advertising has never been this easy.

BUY & SELL DIGITAL BILLBOARDS ONLINE IN REAL-TIME, visit www.Fliphound.com.
Fliphound is a trusted online marketplace for purchasing digital billboard advertising. Fliphound allows marketing and social media professionals to leverage digital outdoor space as part of their online advertising programs. You can open a Fliphound account for free and begin advertising in real-time. Fliphound's mission is to connect advertisers to digital billboards, at any price point, to make buyers and sellers lives better and simpler. Whether you are an advertiser using Fliphound to purchase advertising or you use the platform to sell your billboards, it is all about changing the way business is done – one flip at a time.

Fliphound is transforming the outdoor advertising space by offering unparalleled ease in getting ad content onto digital outdoor billboards. Buyers with any budget can pick a location, upload content, make a payment, and get their ad live quickly on a Fliphound-enabled billboard. With Fliphound, ads can be live in minutes, and advertisers can start, stop and change campaigns at any time, offering the flexibility to run content for one day, a week, or any term of their choosing.

In addition, Fliphound provides integrated tools to promote and support its advertisers with leading social media and digital advertising messaging and linkage.

More than 450 agencies and advertisers are using Fliphound to buy outdoor digital advertising and these advertisers augment marketing initiatives that already include print, radio, internet, and/or social media. Fliphound customers represent a broad range of businesses including automotive dealers, healthcare facilities, real estate professionals, legal professional, schools and higher education and entertainment venues. According to data from a June 2014 Fliphound Users Survey - "92% of users would recommend Fliphound to a friend or colleague."

Fliphound's online solution provides digital online advertisers from the $53.6B (2015E) digital online advertising market (source eMarketer) access to digital billboards in the $7+B outdoor industry. Fliphound continues to expand it footprint and is available in Kansas, Georgia, Louisiana, New Jersey, Texas and Arkansas.

A great way to become familiar with Fliphound is to watch this two minute animated video. YOUTUBE VIDEO LINK: http://youtu.be/iXnB0iVOXOA

Fliphound is a privately held company and is headquartered in Wichita, KS. For more information, please visit www.fliphound.com or call 316.854.8668.

For technical assistance, call DOmedia: 866.939.3663