Sol Chariots Pedicab Cooperative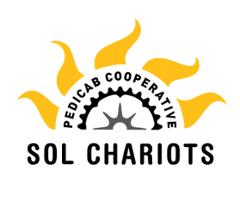 Providence, RI 02909

Sol Chariots Pedicab Cooperative is a worker-owned pedicab company in Providence, RI that provides local transportation and tours and functions horizontally, giving a voice to all workers. Sol Chariots seeks to radically rethink work environments and to have fun while providing three-wheeled adventures and rides to the people (and veggies) of Rhode Island.

We specialize in:
-Bike taxi servicing all of Providence
-Tours
-Pedal-powered delivery
-Transportation for special events: weddings, parties, birthdays
-Advertising Opportunities
-Fun and Adventure!

Our outdoor advertising opportunities are an incredible, eye-catching, and dynamic way to get your business' message out into the streets and to the masses! Here's why:

• Pedicabs are moving billboards and will be seen in the busiest parts of the city and at all the biggest events: Waterfire, the Dunkin Donuts Center, and PPAC!
• Pedicabs go where the crowds are and to areas not accessible by other types of advertising
• Advertising leads directly to customers; they can be driven right to your business' front door
• Drivers are locals who can provide excellent references, as brand ambassadors to potential customers
• Pedicabs draw attention and smiles wherever they go! Your ad is on the bike, seen with positive association
• Pedicab ads are the #1 eco-friendly way to get your message out
• Coupons/Business cards/Promos can be carried on board to bring more customers and track your ad's success!

We have a variety of package options to work with your marketing goals and your budget! Don't hesitate to get in touch to learn more about how you can get your message in motion with Sol Chariots Pedicab!

For technical assistance, call DOmedia: 866.939.3663