Keystone Transit Advertising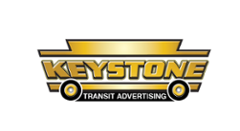 Post Office Box 202
Cheltenham, PA 19012-0202

Keystone Transit provides targeted advertising, in the difficult-to-reach Bucks County exurb. Keystone Transit offers the only
fully wrapped buses
travelling daily throughout Bucks County. Buses are routed out of three garages - Bristol, Doylestown and Quakertown. This gives
your client
the flexibility to specifically direct its message to "heavy-up" in Lower, Central, or Upper Bucks. You
choose
the area/s you wish to target your
mobile billboard.
Keystone Transit
wrapped buses are an excellent addition to static boards, since the buses provide broader coverage, throughout the county, especially where billboards are nonexistent or limited.
Integral to every Philadelphia Metro Buy!
- the average bus trip is 10 miles
- each bus travels approximately 135 miles daily.
- your client
is the sole advertiser, on a Keystone Transit bus.
- Keystone Transit also offers 5.6'x 5.6' side panels on one or both sides of the bus, as well as the bus back of the Doylestown Dart..
There are many ways to work with the buses and we can tailor a program to work within your advertising plan.
For technical assistance, call DOmedia: 866.939.3663