Military Marketing LLC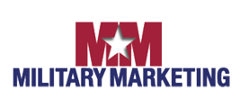 10 West 15th St.
Suite 2117
New York, NY 10011

Military Marketing specializes in serving media agencies and major brands who want to target the military as consumers on base. We have worked exclusively in the on-base, military market for more than 20 years. We have in-depth knowledge of the branches, bases, target audience and all the rules, regulations and practices that govern advertising on military installations. We will develop smarter, actionable, results-oriented, turnkey solutions for your marketing and advertising challenges.

The sweet spot of our work includes:

Military Consumer Insights and Communications Planning
Refined Targeting and Strategy Development
Military-compliant Program Implementation
Military Media Selection and Recommendations
On-base Advertising Programs and Outreach
MMLLC has created the only national and professional on-base advertising network that will meet the requirements of the most demanding clients. With over 1500 display locations, we can provide targeting down to the base, facility and consumer sub-segment level. We back up our work with best-in-class, 100% Proof of Performance. You'll never be left guessing did I get what I paid for!
MMLLC is the marketplace expert in all things military. We know it, understand it, and have a large network of contacts and an unmatched reputation with the bases and military leadership. Military marketing is all that we do!
For technical assistance, call DOmedia: 866.939.3663