Media CanDo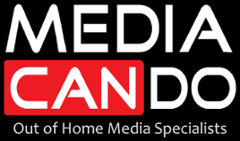 1200 Mendelssohn Ave. N.
Suite 211
Minneapolis, MN 55427


"ADscreen" Custom Digital Networks, A service of "Mediaonix" (sister company to Media CanDo):

Media CanDo is a outdoor advertising specialty company providing unique planning, buying and execution services to advertisers actively seeking unique solutions in out or home media. Our innovative solutions result through the application of new technology & programming ingenuity combined with decades of practical experience in the OOH sales arena.

One of our new services is "ADscreen" marketed by "Mediaonix" – an independent sister company to Media CanDo. "ADscreen" technology enables us to build custom temporary, small screen digital media networks for our accounts to a CLIENTS preferred venues. This allows for the complete custom selection of digital media network venues. We work with our clients to identify the venue site types they wish to include in a digital media program. We then go to market securing lease locations within these venue categories – install screens and control technology - and manage the client advertising content throughout the program. After the client schedule duration is complete we simply remove our equipment and the client schedule ends.

"ADscreen" provides impactful messaging – the content is fully capable of "INFOMERCIAL" style messaging of the client product or service … OR … the client can blend other creative material to play within the stream of messaging including the use of other complimentary product and services.

A few account examples of "INFOMERCIAL" creative in select venues are:

Explanation of complex consumer technology demonstrating use or applications in business oriented environments.
Product explanation of packaged foods or food preparation located in grocery retail locations.
Consumer building materials and construction techniques located in DIY retail locations.
OTC drug product explanation with disclaimer information at custom points of retail distribution or in custom doctor office / medical facility.
"
ADscreen
" service utilizes new technology efficiencies combined with our national installation network and a proprietary media management system enabling this breakthrough in new small screen place based media services.
"
ADscreen
" can:
Provide in depth "INFOMERCIAL" style content.
Deploy to any market in the United States.
Provide virtual point of purchase media coverage.
Locate to a clients PREFERRED list of venues.
Contact : Stewart Layton …. Managing Partner ….. Media CanDo / "
Mediaonix
" ... 770.577.3375
For technical assistance, call DOmedia: 866.939.3663