AdMobilize.com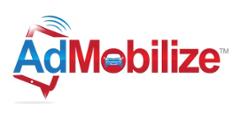 1680 Michigan Avenue
Suite 736
Miami Beach, FL 33135

You can react to change or you can create it.
The term crowd-advertising is finally born; AdMobilize has redefined social advertising.

Comprised of a strong team of visionaries, AdMobilize has broken ground with a unique platform that combines the digital medium with the physical world, social marketing with brand loyalty.
Directly connecting brands and consumers with a bold version of mobile advertising, AdMobilize provides an actionable, profitable, and powerful answer to out-of-home advertising and beyond.
With our patented technology, your brand becomes a part of people's lives by turning their tablets and cars into billboards.
You can email us at: info@admobilize.com
For technical assistance, call DOmedia: 866.939.3663