VeloAds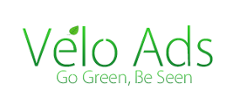 4695 sable pine cir
Apt A2
west palm beach, FL 33417

VeloAds is a fresh, innovative product, specializing in green and athletic, bicycle billboard advertising.
In today's competitive world companies need to keep their products and services SEEN! Visual advertising is the BEST and MOST LUCRATIVE way of bringing in new business and keeping existing business!! VeloAds offers completely INDIVIDUAL designs to help market your business!
Delivering different brands targeted advertising and promotional out-of-home campaigns to a mass audience in a cost effective, highly visible street level, gorilla type venue.
Our new fleet of bicycle billboard trailers deliver a giant eye-catching billboard message that can travel to any zip code where it's needed the most.
With meticulous attention to detail, VeloAds will implement our outdoor media services through the use of our billboard/sign trailers to strategically target your client's needs and goals. Utilize our traveling billboards for advertising, sales promotions, parades, special events, grand openings, trade shows, as previous advertisers have.
For large companies VeloAds ability to travel to any zip code destination at anytime has many benefits. VeloAds will be onsite when you need it the most, plus our big billboard area traveling on our sleek captivating bicycle trailer design is eye catching and hypnotizing making our venue unique and beneficial.
Teams of 3 or 4 professional cyclists, as trained brand ambassadors with customized t-shirts carrying a logo ride for 6-8 hours/day throughout Client determined, tailored routes for maximum target audience exposure.
Product sampling and information distribution is always available.
Lets keep in mind that all advertisements are not viewed the same. VeloAds medium of advertisement and promotion receives a high retention score, and people tend to stare at us. Moreover, our ability to accommodate signs, and billboard poster paper gives a client diversity and price conscious marketability.
In most areas, zoning and sign restrictions have become so severe that there are fewer and fewer ways to get the word out.
With VeloAds your movements have no boundaries.
For technical assistance, call DOmedia: 866.939.3663