Instore Audio Network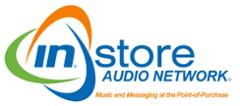 13 Roszel Rd
Princeton, NJ 08540

InStore Audio Network is the largest provider of in-store audio services (music and messaging) to grocery and drug stores in the U.S. Our network of stores covers 25,000 locations and includes retailers such as Kroger, Abertsons/Safeway, Food Lion, CVS, Ahold and Rite Aid -- just to name a few. A standard media buy on our network is a 30-second audio message that airs once per hour in grocery stores and to accommodate shorter shopping times in drug stores, your message airs twice per hour in drug stores. Our DAILY audience estimates deliver message to 29 million people PER DAY.

And your message is delivered at the point-of-purchase, moments from teh actual buying decision. ("Aisles away - not miles away!")

InStore Audio Network can target as needed -- by class of trade (grocery or drug), by DMA, by retailer or even to the store level.

Include InStore Audio Network in your plans when you need to reach consumers at the point-of-purchase in an effective and efficient one-stop buy!

For technical assistance, call DOmedia: 866.939.3663