Hometown Outdoor Advertising, Inc.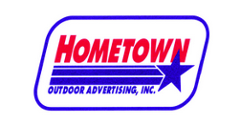 4901 W River Road
Muncie, IN 47304

Ever wonder how to promote your business and control how what will happen? HOMETOWN OUTDOOR ADVERTISING, INC. is the answer!

Outdoor Advertising is the largest format media to let potential customers know you are there.

Your potential customers can't turn the page, change the station, or skip the commercials.

With dramatic art layouts and/or actual photography, your business becomes easily recognized. Most of your potential customers travel the same way to work and home. This repetition makes your business familiar, like an old friend!

Hometown Outdoor Advertising uses computer printed flexible vinyl exclusively in producing billboard faces from your pre-approved artwork. the benefits of the vinyl face over the printed paper are huge:

The vinyl face can be removed from one billboard display, trucked to another structure, and reinstalled, reaching a whole new traffic flow with no additional printing investment.

Seasonal advertising is easy with Hometown Outdoor installing your billboard faces, then storing them untill next season.

Hometown's strategy is to be your premier provider of Outdoor Advertising in the Muncie/Delaware County market.

We understand; Our best advertising is the creative designs we display before the masses.

We live, work, and play in the Muncie/Delaware County area, just like your potential customers.

We will assist your marketing plans with strategic message placement. when your marketing calls for reaching a segment of the market, this area can be targeted. Pinpoint marketing allows your message to reach the demographic your business demands while not paying for wasted circulation. When your plan calls for reaching the masses as a whole, Hometown's prime display locations with long views located along the main arteries will do the job!
For technical assistance, call DOmedia: 866.939.3663