Sterilyfe USA, LLC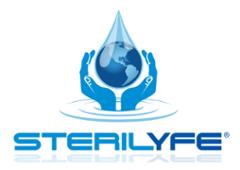 7336 Delainey Court
Sarasota, FL 34240

Sterilyfe USA is a Florida based company that has developed an entirely new Digital advertising platform combining static and digital interactive advertising with the draw and engagement of hand sanitation. Our system is patented and therefore we're the only company that can produce a kiosk that dispenses any form of hand sanitation (wipes, foam, gel etc) that also has any form of advertising on it (static, digital, print, etc) that dispenses coupons at the point of decision via a printer or electronically to a users phone.

The public has been trained to look for and utilize hand sanitation over the last decade in almost all public areas such as grocery stores, medical facilities, airports and transportation, all public buildings, schools and campuses, stadiums, arenas and many more. Combining this with a kiosk that dispenses hand sanitation, displays both static and digital interactive advertising, and is ADA compliant, the Sterilyfe Sanitation kiosk has garnered unheard of engagements and has actual measurable analytics of customer interaction with the kiosk, the specific advertisement, delivery of the coupon, and redemption and lift.

We are currently deploying 422 kiosks into 211 Harris Teeter grocery stores in Q4 of 2013. We are excited to partner with Harris Teeter, one of the most highly respected brands in the grocery industry, for our initial product launch. Locations will be throughout the East coast but heavily focused in the Carolinas and Washington DC areas. We'll reach well over 11 million users every single month. Advertising space is still available for this opportunity so contact us immediately. 2014 planned deployments will reach over 3,000 locations in the following venues: grocery, pharmacy, airports, transit, and Medical facilities.
For technical assistance, call DOmedia: 866.939.3663