Keleher Outdoor Advertising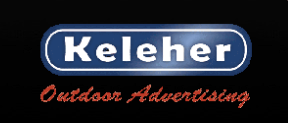 PO /box 1361
Bartlesville, OK 74006

Nearly every billboard company in America is the same. We all make the same claims about our quality, responsiveness and professionalism. What separates one company from the next is reputation. Can you deliver on those promises? We began Keleher Outdoor in 1975. Almost 40 years later, we're still family owned and we serve more than 50 diverse markets in Oklahoma and SE Kansas. We've grown using the only collateral we have - our reputation.

We're proud to serve a variety of clients, from agencies with large regional buys to our local small businesses to charitable organizations.

Regardless of size, our commitment is the same - give every client what they need and do the job right. We stand ready to assist you in any and all phases of the marketing-including quality design services.

Keleher Outdoor's sign inventory consists primarily of 12x24 30-sheet panels capable of accepting posters or vinyl wraps. We also have various size bulletin units from 12x32s to 14x48s in Lawton, Enid, Bartlesville, Kingfisher and on Interstate Highways I-35 and I-44. We have contracts to fit nearly any need- because every need is different.
For technical assistance, call DOmedia: 866.939.3663