Made You Look Mobile Media, Inc.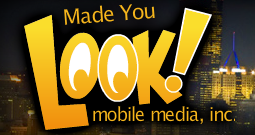 706C Long Run Road
McKeesport, PA 15132

Made You Look Mobile Media Mobile Billboards are an innovative alternative to get your message to your target audience fast. We drive your message around at sporting events, high-traffic, large-volume areas and even where permanent billboards are not permitted. Long- or short-term contracts with single or multiple trucks are available.
For technical assistance, call DOmedia: 866.939.3663