Eye Catching Media, Inc.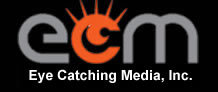 933 67th LN SE
Auburn, WA 98082

Why We Are Here
Eye Catching Media is the brain child of two Seattle advertising guys who recognized a need for an engaging and more effective outdoor medium. The limitations of old world billboards with "Cement Shoes" are numerous. Eye Catching was born from the idea of giving outdoor advertisers unlimited options in promoting their company or products! Flexibility and Mobility are the keys to our business. Let us serve you, impress you and show you tangible results today.

We Have No Boundaries.

Mobility
Mobility is key to our business. Let us know how we can serve you and we'll bend over backwards to exceed your needs.
Plan a whole day or months activities for your outdoor advertising rather than having it stay in one place all day. No cement shoes here!
Take your billboard to your audience with a strategically targeted "in your face" driving route.
We're Eye Catching
We combine Sight, Sound, Motion, and Mobility to become a multi-dimensional medium.
Stationary billboards can't offer the kind of brand awareness that our mobile boards do with audience engaging Product Sampling and Sound Systems. Provide us with your product samples and music; we'll take care of the rest.
We're a refreshing way for marketers to brand and stay memorable. We can be anywhere at anytime!
Billboard Features:
Exciting and modern, with state-of-the-art technology and mono pole construction
Clear, beautiful, life-like images created using Inkjet or MMT computer controlled printing technology
Images printed on tear and weather resistant elastic vinyl
Attracts viewers with high-profile locations
Boosts product image and creates a memorable impression
Motion Increases Sales
Product Acceptance and Research, Inc. conducted a study for the beer industry. They looked at beer sales without any POP display, with a static display and with a motion display (rotating sign). Sales using the static display were increased 56%, while sales with the rotating display were increased by 107%! Eye Catching Media can sell your product.
For technical assistance, call DOmedia: 866.939.3663