Ad Trend, Inc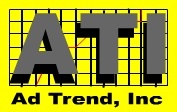 14450 S US 71 HWY
Kansas City, MO 64147

Ad Trend, Inc is the originator of the national retail chain store grand opening package featuring giant rooftop inflatables, pennant streamers, cloudbusters, searchlights, and other items in an exciting A-Z package, all delivered on a one price nationwide basis.

Each promotion is handled on a nationwide basis at the same cost per location. This offers the customer consistency in their promotions and high class visibility for the all important kickoff of their stores.

We offer a database with city sign ordinances in over 5,000 US Cities to research for the customer what type of signage is allowed. Since we have done more grand openings than any other company it is likely we already have operated in the city requested and instantly know the answer to the sign code in question.

We carry over two million dollars in liability insurance just to protect client and landlord real estate interests. We stock one of the largest fleets of giant inflatables with over 200 units.

In addition to the inflatable side of our business, we are Kansas City's largest locally owned supplier of billboards. Since our 2008 merger, we have boards scattered throughout Kansas City and should be able to find coverage anywhere you want it.


For technical assistance, call DOmedia: 866.939.3663