Columbus Pedicab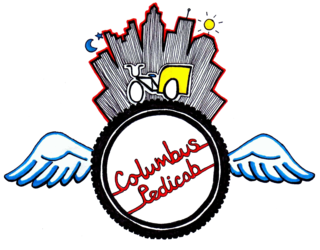 1660 N High Street # 25
Columbus, OH 43201

Mobile Advertising Has its Advantages:

COVERAGE:
30-50 hours a week downtown and in the Short North

Every major Columbus event including:
OSU football games
Clippers games
Schott concerts
LC concerts
Pride festival
Comfest
Red white and boom
Etc.

VISIBILITY:
Signs on all sides of our bikes that only circulate high traffic areas.

LED lit advertisements.

GUARANTEE:
Our bikes are GPS tracked live so you know exactly where your ad is circulating and can even download data to tell you where it's been.


The beauty of advertising with pedicabs is that we're always visible because we follow the crowds and can get to places (especially during the biggest events like football or comfest) where traditional media and cars cannot.
For technical assistance, call DOmedia: 866.939.3663