AutoNetTV Media, Inc.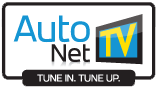 345 South 500 East
American Fork, UT 84003

AutoNetTV™ is a media company providing automotive service reports for vehicle owners on how to preserve the life, performance and safety of their vehicles. The award-winning AutoNetTV television network is primarily viewed by customers in the waiting areas of automotive service centers – providing entertainment and educational programming to those waiting for their service to be complete.As an independent reporting organization, not owned or operated by an automotive service company or vehicle manufacturer, AutoNetTV understands the discomfort and uncertainty that is often associated with having a vehicle serviced. AutoNetTV's goal is to save vehicle owners money on vehicle ownership and fuel consumption, and empower them with a better knowledge of basic automotive issues.

AutoNetTV has partnered with some of the most well-respected and established media companies (such as CBS – as part of the CBS Outernet division) and automotive organizations in the world.

AutoNetTV produces, manages and delivers reliable programming content to participating service center locations around the world, via its website, and through other distribution companies and outlets. Please use the Contact link on this website if you wish to reach us for any purpose.
For technical assistance, call DOmedia: 866.939.3663