CYCAD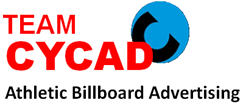 157 Second Ave
Suite #4
New York, NY Team CYCAD

Team CYCAD - Four athletic cyclists and trained brand ambassadors towing 6ft interactive advertising billboards. Each billboard trailer can carry hundreds of samples.

Our stylish lycra rider uniforms are custom and look fantastic when synchronized with the artwork.

Our Tour de France style team of riders can move through tight city spaces, engage the on looking street audience and drive trial, online or in-store via sampling and information distribution.

Team CYCAD is a stunning combination of athletic unity with advertising impact, reaching target audiences throughout fashionable and highly populated inner urban areas.

We are the epitome of health, fitness and personal achievement. Ideal attributes for any premium brand wanting to convey an image of peak performance coupled with zero environmental impact. Team CYCAD is the guilt-free advertising alternative.

For technical assistance, call DOmedia: 866.939.3663