Insite MediaCom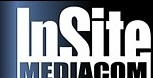 150 NW 70th Avenue
Suite 3
Plantation, FL 33317

InSite MediaCom's got you covered. With approximately 2000 billboard faces and growing, we have the inventory and locations to meet most every type of customer's outdoor advertising needs.
Billboard advertising offers a unique combination of benefits and advantages in today's competitive business climate, and InSite MediaCom has the experience, the people and the market presence to help you gain that competitive edge. You can expect world class quality from InSite, as well as the personalized service and attention to detail that will set your billboard message apart. That's our pledge to you.
InSite is proud to serve its customers and communities in Alabama, Georgia, South Carolina, and Florida in the Southeastern U.S., and West Virginia, Maryland and Pennsylvania in the Mid-Atlantic Region.
We also offer space on our sites to wireless operators for the placement of wireless arrays or antennas.
Please contact us to let us know how we can serve you.
For technical assistance, call DOmedia: 866.939.3663