JiWire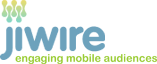 150 Post Street
Suite 500
San Francisco, CA 94108

JiWire is the leading mobile audience media company, leveraging Wi-Fi to deliver ads to elusive and affluent audiences with outstanding measurable results. We reach audiences in the context of their daily lives, driving deeper engagement than traditional media with the keen expertise of ad industry veterans, who understand your targeting needs and how to deliver.
Serving 20 million unique users per month at 30,000 high-traffic, premium Wi-Fi hotspots, our channel taps into an audience of elusive business travelers, affluent families and trendsetters—all within an online environment that promotes high receptivity and response.
With a rich history of working with every leading company in the wireless broadband ecosystem, JiWire is uniquely positioned to take advantage of Wi-Fi technologies today, and the emerging wireless technologies of the future.
Unique. Targeted. Measurable. JiWire reaches receptive mobile audiences no matter where they go.
For technical assistance, call DOmedia: 866.939.3663