Hey, Media Buyers:
That Stuff You Hate?
Let Us Do That Stuff.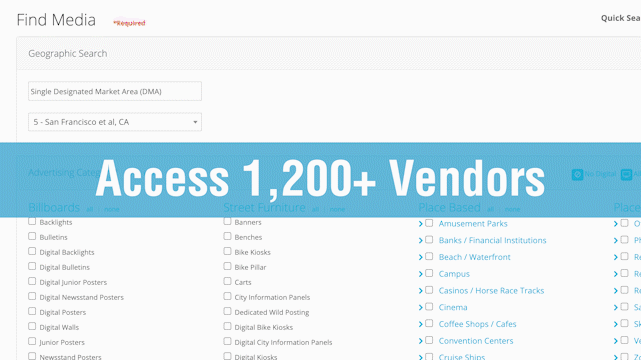 Annihilate Pointless Busywork
Media buyers use DOmedia to do more of what makes them great - researching locations, evaluating vendors and targeting audiences - in less time. Automation helps advertising experts reclaim valuable hours once lost to emails and spreadsheets.
Elevate Strategic Thinking
Media teams use DOmedia to shift from low-value work – like data transcription and vendor communication – to high-value work that generates business, awards and long-term success. Focus on strategy and creativity, let our tech handle the rest.
Cultivate Data & Insights
Visionaries use DOmedia because it delivers game-changing results from day one and gets smarter with each use. Maps and analytics make campaigns pop; private marketplaces and integrations build organizational intelligence and fuel growth.
Looking for something even easier?
BillboardsIn.com let's anyone find and buy billboards online.
BillboardsIn leverages DOmedia's technology to let anyone plan and execute an outdoor ad campaign across the U.S. and Canada in just minutes. Plan a campaign on your lunch break using data-driven targeting tools and launch it at 2am in your pajamas.
Because BillboardsIn is powered by DOmedia's industry-leading database of available media assets, you'll have on-demand access to more ad space – both digital and static units, across multiple formats – in more markets. See for yourself.