Brand Connections, LLC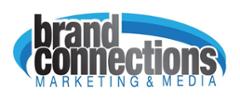 1500 Broadway
32nd Floor
New York, NY 10036

Brand Connections is built to Make Marketing Easier for Marketers. We use our insights-based approach to develop strategic recommendations that reach targeted consumers with a multi-channel solution, seamlessly integrating disciplines from out-of-home, digital, mobile, social, promotion, sponsorship, event/experiential, CRM and retail activation. What sets our company apart is our proprietary network of owned, exclusive assets within non-traditional OOH media networks (including SkyMedia Tray Table Media and Brand Connections Active Outdoor, the largest U.S. year-round on-mountain media company.

Brand Connections is superior when it comes to creating fully-integrated programs and delivers services that go beyond standard activations. We have the ability to reach your target through multiple touch points while they are enjoying their passion for golf, skiing and snowboarding or while traveling for business or vacation. We offer an exclusive, scalable, geo-targeted opportunity for your brands to saturate specific markets and dominate golf ranges and ski resorts. We can also provide sampling/coupon collateral opportunities within the pro shops.

Our Media Networks consist of BC Sky Media, BC On Mountain Media and BC Golf Media. With BC Sky Media, we exclusively license the North American patent on tray table media to put advertising messages on the surface of seatback tray tables on the world's largest airline, American Airlines (via their recent merger with US Airways). Our installed base of planes make over 300,000 flights with 5 million passengers annually. Brands enjoy 100% exclusivity on the planes and because the tray table is the #1 feature on the plane passengers use, brands benefit from long exposure times - 2-5 hours - depending on the flight. 3rd party independent research proves this 1:1 engagement results in average brand awareness over 80% and average purchase intent shifts of over 27%.

With BC On Mountain Media, we have exclusive relationships with 96 winter/summer resorts and control advertising on nearly 1,000 assets reaching 52 million people a year, with a high concentrations of families, A18-34, A18-49 with kids 12. Our assets are fixed on the mountains in high traffic areas including ski racks, lift lines and static and digital screens at the resorts. Research proves that people spend over 5+ hours on the mountain a day and our assets allow for multi-touchpoint exposures. Advertisers enjoy category exclusivity and high share of voice as a limited numbers of advertisers can be on the mountain per season. 3rd Party independent research proves that media on the mountain delivers high brand awareness and purchase intent metrics. With BC Golf Media, we have the ability to contract with up to 3,000 golf facilities to install media at driving range tees reaching up to 51 million people a year. Golfers spend an average of an hour at the tees and our media provides a brand exclusive and immersive experience. Each of our networks capitalizes on long dwell times and positive mindsets that allow brands to stand out. Our networks collectively reach 156 million active consumers annually with high concentrations of A18-49 HHI $75K+, A25-54 HHI 75K+ and A35-64 HHI $100K+ while they are away from home, not consuming traditional media. Advertisers like P&G, General Mills, Kellogg's, Verizon, AT&T, Samsung, Microsoft, LG, Chase and many others have used BC Media Networks to optimize their marketing mix.

---
---
Loading Products
Back to top