ApolloBravo Mobile + Social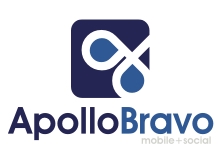 218 N. Lee St.
Suite 300
Alexandria , VA 22314

ApolloBravo is a next generation marketing and new media firm, specializing in technology driven wireless promotion and social media solutions. We offer high performance SMS promotions integrated with Facebook and the mobile web.
ApolloBravo can handle your mobile and social media campaigns from ideation to full scale execution and reporting. We launch mobile campaigns, sweepstakes and mobile websites on our Snd2phone platform.

We have searched the globe for what works in mobile and social media and can apply that experience to the campaigns we develop for your brand. Our staff has over 50 years of combined marketing, promotion, event and wireless technology experience.
For technical assistance, call DOmedia: 866.939.3663