MediaCaddy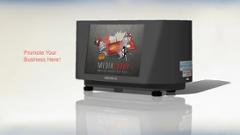 1031 Cambridge Sq
Suite E
Alpharetta, GA 30009

MediaCaddy Network (MCN) is the nation's only captive digital-out-of-home media network serving casual bars and restaurants via a digital bar caddy. MCN's patent pending interactive bar caddy takes the traditional bar caddy to unsurpassed heights combing functionality, dynamic point-of-sale marketing, cell phone hot spots and recurring revenue streams for our host establishments.

Our host establishment's benefit from a recurring revenue stream comprised of:
•Internal food and beverage sales lift (20% - 125% increase)
•Revenue sharing via local, regional and national ads placed within the 15 minute looped Entertainment Program
•Increased dwell time, via cell phone charging stations, resulting in an increased spend at the bar

Our advertisers benefit from reaching the elusive male 21+ demographic while they are relaxed, receptive, and, above all, completely captive. Our audience is middle to upper income with a high discretionary spending profile.
For technical assistance, call DOmedia: 866.939.3663