the michael alan group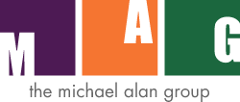 22 w38th street
8th fl
new york, NY 10016

Some call it buzz. Others call it guerilla. No matter what you call it, the michael alan group provides the purest and most direct form of marketing. Ever-innovative and entertaining, highly-targeted and cost-effective, our experiential connections truly capture the attention, imagination and brand allegiance of even the most ad-saturated consumers.

At more than 2,000 events annually - from street team intercepts to multi-faceted national tours - the michael alan group helps savvy marketers achieve powerful one-on-one connections with millions of consumers. Offering the flexibility to accommodate nearly any budget, we create unique and engaging programs, and execute them flawlessly in markets throughout the United States and abroad. Since its founding, the group has received extensive media coverage in both trade and consumer publications, as well as a variety of industry awards.

Company highlights:

Listed by Event Marketer as one of the industry's Top 100 Agencies 4 years in a row.

Authors of "Guerrilla Marketing for Dummies", Wiley Publishing.

Promotional Agency of Record for several entertainment & lifestyle brands.
For technical assistance, call DOmedia: 866.939.3663