Ad Shark Press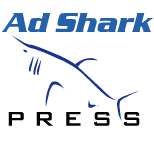 N4266 S German Rd
Hustisford, WI 53034

Thank You For Considering
AD SHARK PRESS
We are a family owned Outdoor Advertising Media Seller. Our mission is to provide affordable advertising spots on our Ad Shark Mobile Media Platforms.
The Ad Shark Mobile Media Platform is a hybrid adbike. Each Ad Shark is powered by pedaling the platform in order to keep the battery bank fully charged. This is sustainable clean technology.
The Ad Shark is equipped with a couple 40 inch HD 1080p digital displays. We use the Freedom player by BitVu for our ad server. This allows our customers to instantly upload/edit their advertising messages.
We operate the Ad Shark?s in busy metropolitan markets daily. Our first Ad Shark will be deployed downtown Chicago in late May or early June. There are still spots available for our testing phase if interested.
For technical assistance, call DOmedia: 866.939.3663