February 2009 Newsletter
Advertisers & Agencies | Media Sellers
Feature Story
What's Up With the Orange Icons?
Fantastic improvements to your media listings!
Since the STAR Showcase last September, the DOmedia team has met with buyers and advertising agencies to hear their thoughts on how we can help them connect more easily with media sellers. Most of the feedback we received told us that we need a more targeted search. One that provides more relevant search results based on a media buyer's specific objectives.
Armed with this feedback, we went to work and found the solution: more specific information in the media profiles!
Looking through the DOmedia marketplace, you'll notice the orange icons next to the profile listings. These represent the profile completeness of that particular media listing. As more information is added, the circle becomes increasingly full. Your mission is to get all your circles to 100%. Doing so will allow your media to be better matched to the buyers who are searching.
Where do you start? First, we suggest adding information about individual media inventories rather than just updating a broad category. This will give buyers more detail about exactly what you can offer. Next, one of the most sought after pieces of information is demographic data--and DOmedia helps you provide this information based on the DMA or zip code of your media.
That's just the start of what DOmedia plans to bring in 2009 to further help buyers and sellers! What are you waiting for, log in and go to your asset profile page(s) to get started!
What's New @ DO
AAAA 2009 Media Conference & Tradeshow
As you know, connecting advertising agencies and media owners like yourself through our extraordinary database of out-of-home and alternative media is DOmedia's game. We wanted you to know about a different sort of game we recently created for the enthusiastic crowd that will be attending the 2009 American Association of Advertising Agencies' Media Conference & Tradeshow in New Orleans this week.
DOmedia's game is fast, furious and provides a bazillion opportunities for prizes and professional networking. The game is simple and the rewards are digitally cool. Players collect as many entry tickets as they can, drop them into the prize bowl at the DOmedia Booth (#709-711) and are on their way to winning. To help people become more familiar with us, additional tickets will be available by contacting a DOmedia representative in the conference area, visiting the DOmedia booth or wearing a DOmedia button. Following us on Twitter (@DOmedia) is another way to earn extra bonus tickets for a chance to win prize booty like iPod Touches, Shuffles or $15 iTunes Gift Cards.

Participants will not only have a chance to win great prizes, but media buyers nationwide will discover how DOmedia's revolutionary tools can connect them to the right resources. We look forward to sharing why DOmedia is the best resource for alternative and out-of-home media, simplified. Our team hopes to see you there, too, so be sure to stop by our booth if you're there. Game On!
Seller Spotlight
eXaD: eXperiential aDvertising

While you can't do anything about the weather, you can finally do something about the long hours of boredom it causes frustrated travelers! Introducing eXaD, the eXperiential aDvertising company that is bringing interactive entertainment to the boring world of airport delays and layovers!
Now travelers can leave behind the dull, overpriced gossip magazine from the airport gift store for the new and exciting video games from Xbox, PS3, or Nintendo -- all on 32" HDTV LCD screens. The gaming zones combine entertainment with amazing marketing opportunities by providing 52" LCD advertising screens above each of the 5 game screens. Sponsors can not only communicate their brand message to passengers who engage in the games, but also to observing bystanders and passersby alike.
eXaD is looking to launch within each of the top 10 airport DMAs in the U.S. later this year. Find out more about eXaD and its gaming zones by logging into www.domedia.com and searching "eXaD" or on their website www.feelexad.com.
Creative Corner
Extraterrestrial Pizza or Ingenious Campaign?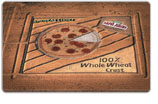 Airline passengers traveling in and out of Denver International Airport during the summer and fall of 2008, including visitors to the Democratic National Convention, probably experienced an extra-large hunger pang after seeing an enormous Papa John's pepperoni pizza cut into a wheat field below. Filling the space of six football fields, the pizza-style crop circle promoted Papa John's new Whole Wheat Crust Pizza.
Papa John's was really thinking outside the "pizza box" when they strategically placed this advertisement between two very busy flight paths. Their ingenious use of product placement not only whetted the appetites of mile-high travelers, but also provided out-of-this-world media coverage. Where else could Papa John's slogan "America's Choice" ring clearer than in a heartland wheat field -- which, by no accident, is where Papa John's also purchases its wheat ingredients.
It took renowned earthworks artist Stan Herd more than 600 hours to create the extraterrestrial pizza at a cost of $50,000. In concert with Papa John's message of whole wheat crust, Herd created the organic advertisement with natural elements. Red mulch was used for pepperoni, corn stalks to resemble green peppers and black mulch for olives. Limestone doubled as onions and flattened wheat stalks for cheese. Recognized for his creativity, Herd is no stranger to alternative media. Other credits include work for Absolut Vodka, Beck's beer and Sara Lee.
Creative use of alternative media in advertising has birthed a whole new way of connecting clients and consumers. It's an exciting new frontier and DOmedia is proud to be a part of it.
Miss the January Edition?
Here's a Recap
Growing up isn't hard for us. We embrace it. We love that we've grown to include 350 companies and more than 30,000 media listings in our searchable database in just a few short months. Our online presence is growing, too, with domedia.com site traffic up by 99%.
DOmedia truly believes in giving credit where credit is due. We were fortunate to receive some outstanding credit about the fantastic work we're doing in a recent issue of Advertising Age. In the issue, author Jack Neff skillfully conveys the ins and outs of DOmedia's matchmaking business. Miss last month's edition? Click here to check out the full issue.
DO You Tweet?
Follow Us!
Announcing the new DOmedia Twitter page! From site features and enhancements to Q&A support, we'll keep you up-to-date on all things DOmedia. Let's tweet! www.twitter.com/domedia