December 2009 Newsletter
Advertisers & Agencies | Media Sellers
Jump to: Feature Story • What's New @ DO • Creative Corner • Save the Date! • Tip of the Month • Recap of Last Month • DO You Tweet?


Feature Story
What Has DOmedia Been DOing for You?
Article by: Kim Ramser, DOmedia Business Development & Industry Relations Guru
DOmedia's goal is to become the industry's one-stop-shop for alternative, traditional & digital out-of-home media. So what in the world have we been doing the past couple months to accomplish this? For starters, the DOteam has been busy improving the site to make it as robust and attractive to planners and buyers as possible. On top of that, we're also getting the word out about DOmedia's new advanced search tools for agencies, developing new inventory management tools for media sellers, establishing new partnerships and providing you with more opportunities to increase visibility. So, what exactly does that mean to you?
Getting the Word Out
If you've been on Adweek.com, Mediaweek.com or Brandweek.com recently, you may have noticed the familiar orange and blue of DO. As a way to advertise the new subscription directory service for agencies and advertisers, we've been placing ads in all of the online trade publications. We also have ads on Adrants, MediaBuyerPlanner, and Adverlab. And if that weren't enough, we're also targeting planners and buyers in large, medium and small agencies through our placement of ads in the Google content network.

In addition to our paid advertising, quite a few publications have picked up our press releases announcing our subscription directory service. Our Chairman, Jeff Bell, has also been busy spreading the good word at industry events. He recently spoke at the Digital Signage Investor Conference on October 6th and the ad:tech conference on November 5th, both in New York. Plus, from October 27th through the 29th, DOmedia was a sponsor at the IBAA conference in Austin, TX, where I spoke about agency planning and buying trends and unveiled some of our new tools.

Developing New Tools for Media Providers
Our developers have been finalizing the first stage of our web-based inventory management tool, DOinventory, and it's now ready for you to use! DOinventory is ideal for companies that need to share and coordinate available inventory across multiple sales representatives or offices. This new management tool allows you to see your inventory in real-time, whether you are in the office or out on the road. You can search your inventory by venue, city, zip or keyword.

Let us know what you think! Check it out today by logging in then clicking My Account > Go to DOinventory. If you have any questions, our DOinventory pro, Adam Malone, would be happy to give you the run-down (adam.malone@domedia.com or 866.939.3663 ext 1010).

Establishing New Partnerships
This month, DOmedia is very excited to announce our newest partner, BroadSign International, a leading worldwide provider of software solutions for managing digital out-of-home video networks. By joining forces with the good people at BroadSign, DOmedia's position as the industry's most comprehensive database for alternative, traditional and digital out-of-home media is further strengthened, enabling us to connect agencies and advertisers with a continually growing marketplace of advertising solutions.

Does your inventory include digital out-of-home video networks? If so, give us a call (866.939.3663) for more information on the BroadSign partnership and how it can benefit you.

We have also established a partnership with Carroll Media Services through our DOimprove program, the suite of services designed to help small to mid-size companies compete. Carroll Media provides audits, proof of performance and research for both media companies and agencies and advertisers. You can have your media pre-audited and include that information on your Media Profile to let planners know your product has been qualified by a third party.

Providing More Opportunities
To provide additional value to our site, our marketing department has been updating and adding to our Resources section. If you or your client is looking for industry or market information, research or campaign ideas, you may be surprised to find the answer in our Resources library. In addition to our case studies and creative gallery updates, we have added more industry articles, DMA zip code lists and market rankings among others.

Do you have a research study, case study or great campaign that you would like to share with our planners or buyers? We'll post it to our Resources library, providing you with even more visibility. Do you have a new product or a great creative image you'd like to showcase? We can include it in our Monthly Agency newsletter. Just let us know by sending it to brittany@domedia.com.

Last, but certainly not least, we have expanded our Media Profiles for our sellers. You can now include a lot more information than before such as location, impressions, creative specs, rate card pricing, images, and support documents. Just log in and go to My Account to add as much information as you'd like!

Your feedback is important to us. Let us know what you think of our changes, updates and improvements. And don't forget to send us your information to increase your visibility—whether you have a great image or a research report you'd like to share, we'd be happy to add it to the site!
What's New @ DO
Increase Your Visibility:
Contribute to the DOmedia Resources Library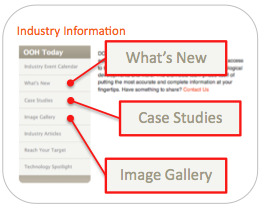 DOmedia is constantly working to be the industry's one-stop-shop for everything out-of-home. And if you're looking for additional ways to get your media in front of the right people, we could use your help!

Recently, DOmedia has been adding more industry info to our Resources library that agencies and advertisers are looking for. This includes everything from case studies to cool new products to images of recent creative campaigns using your media and more.
To submit something to the Resources library, shoot brittany@domedia.com your file(s) as an attachment.
back to top »
Creative Corner
ESPN Digital Game Experience:
Play with the Pros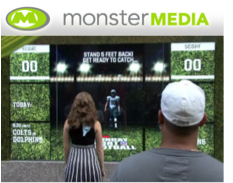 So it's your typical lunch break: you leave the office, walk to the corner deli. Eat lunch, maybe make a few phone calls. Grab a cup of coffee. Toss the football around with Peyton Manning… Wait, what?

That's right. Thanks to a recent campaign from Monster Media for ESPN's Monday Night Football season kickoff, anyone on the streets of New York City, Boston and Chicago had the opportunity to take the field with select virtual pro football players. And they did! Everyone from young women in dresses to middle-aged men in business suits took a break from their days for a catch with the NFL.

When ESPN wanted to find a fun, engaging and unique way to promote the kickoff of Monday Night Football's 40th season, they looked to the pros. Monster Media, the global leader in storefront body responsive advertising, teamed up with Brand New School, Wieden & Kennedy and MacDonald Media to create a one-of-a-kind digital game experience. Placed strategically in high-traffic areas of Boston, NY and Chicago, the installations combined gesture recognizing touch screens and real-time dynamic data to allow consumers to interact with the advertisement on a whole new level. Top scorers could enter their initials and compete with other players nationwide. Plus, ESPN commentators gave play-by-plays on each catch and fumble.

The large LCD installations were constantly surrounded by groups of intrigued onlookers curious about what could cause respectable businessmen and women to leap through the air, arms raised and eyes focused, at noon on a weekday. Others were drawn to the giant, vibrant Monday Night Football signage surrounding the screens with comments like, "IS IT MONDAY YET?" and "COME PASS THE HOURS WITH A GAME OF CATCH."

To watch the ESPN campaign in action, click here.
To see more advertising opportunities from Monster Media, click here.
back to top »
Save the Date!
Digital Signage Expo 2010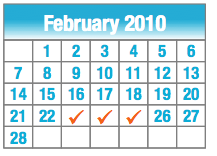 What: The world's largest international trade show and conference dedicated to digital signage, interactive technology, and out-of-home networks.
Who: Advertising agencies, brand marketers, digital out-of-home networks, restaurants, bars, hotels, stadiums and much more.
When: February 23 - 25
Where: Las Vegas, NV
back to top »
Tip of the Month
Here at DOmedia, we want to help you make the most of your media listings on our site. One way we're doing that is by letting you in on a useful tip or trick every month, making your DOmedia experience as beneficial as we can. Have a question you'd like to see answered in the next month's edition? Email us at theteam@domedia.com or call us at 866.939.3663.
Add Your Full Inventory Easily & Painlessly
We'll DO the Work for You!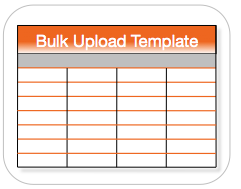 So you've created your DOmedia account, updated your Company Profile, and now it's time to create or update your Media Profiles. And if you have more than a few pieces of inventory, developing your Media Profiles can seem like a daunting task. Well, now it doesn't have to be. DOmedia's Bulk Upload Tool can easily do the work for you!

Rather than loading one location at a time, this tool will enable you to add multiple properties at once. Contact our Client Services team. They'll send you a Bulk Upload Template customized toward your specific type of media. All you need to do is complete the template and send it back. That's it! Then using our Bulk Upload Tool, Client Services can add your full inventory all at once.

Why bother adding your full inventory? When you upload individual locations, you gain access to more local and regional advertisers that weren't even aware you were in their market. Plus, agencies often use our geographic search tool to help identify new ideas close to their target. Because basic profiles aren't included in the geographic-specific search results, adding all of your individual planning level data is vital. And the more specific your profile is, the higher it can come up in search results. What do you have to lose?

back to top »



Recap of Last Month
What? You Missed the Last Issue?
It's Okay, Here's The Recap!
In last month's newsletter, DOmedia business development and industry relations guru, Kim Ramser, showed readers how to stand out in the fragmented world of out-of-home media. Also in November, we introduced two new tools for small to mid-size media sellers: DOinventory and DOimprove. We also announced our new Resources library, complete with up-to-date industry information, DMA rankings and more.

DOmedia applauded Aircel telecommunication company for their billboard featuring an actual rescue boat. When a natural disaster hit, Aircel's ad quite literally saved the day!

To read the full November newsletter, click here.
back to top »
DO You Tweet?
Follow Us!
Welcome to the DOmedia Twitter page! From site features and enhancements to Q&A support, we'll keep you up-to-date on all things DOmedia. Let's tweet! www.twitter.com/domedia