Asset Owners & Media Companies
Expand Your Reach
At any given time, there is someone in the market for your products or services. It may be a local company trying to build awareness in the community. It may be a regional advertising agency folding alternative media into its client's marketing mix. It may be a national or international brand developing a coast-to-coast, multi-pronged integrated campaign that hinges on finding just the right elements to incorporate. It may be all three – or more.
Your challenge as an asset owner or management company is to make sure that all of these potential customers know you exist. This challenge grows if your product is so unique that people may not even be aware of the option, let alone know where to find it. Let's face it – even with an army of top-notch sales executives, reaching every potential buyer at a point when they are actually in the market is virtually impossible.
That's where DOmedia comes in. We help you expand your reach by putting your properties and services in front of advertisers and agencies at the exact point when they are actively seeking out opportunities. 24 hours a day, 7 days a week. As part of our national database, you benefit from increased exposure. Advertisers can easily incorporate your assets into their larger campaigns with very little effort on your part.
When you join DOmedia and post your products in our marketplace, we combine the information you provide with the market-specific information we have aggregated to make your profiles richer and more meaningful to potential advertisers. The targeting tools we have developed means buyers can quickly get right to the alternative opportunites that reach their desired audience.
Whether you are an individual owner, run a local network or manage a national inventory, DOmedia can help you expand your reach and build demand for your product. The more potential buyers you have, the more you can maximize your revenue per unit and minimize your unsold inventory.
DOable Assets
DOmedia is the leading spot on the web for alternative and unique advertising media – all the advertising elements out there that don't fall in the TV, radio, print, or traditional online buckets. While there are several niche listing services out there, DOmedia is dedicated to helping a wide range of alternative media asset owners promote their products to advertisers and agencies. People, places, things. Analog, digital and anywhere in between. In short, if it can be branded, you can post it here.
Current inventory categories run the gamut from billboards and bus shelters to digital signage, segways and street teams…and we're adding new categories daily to keep up with our growing range of opportunities.
If you're not sure whether or not your advertising opportunity is right for DOmedia, please contact one of our Account Representatives toll-free at 866-939-3663 anytime Monday – Friday, 8AM – 5PM EST.
Adding Your Inventory to the Marketplace
Uploading your alternative and unique advertising assets to the DOmedia Marketplace is is quick and easy.
Adding a Single Asset
If you only have a few items to post to the Marketplace, you can add them one at a time using the 'Add an Asset' tool found under the Marketplace tab. Complete the item profile and add images to the gallery potential buyers will be able to view as they conduct their searches.
In addition to the information you provide, DOmedia will map your inventory using Google Maps (and Google Streetview, where available) and will add market information from our third-party resources to enrich your profile, giving advertisers and agencies the information they need to make a purchase decision.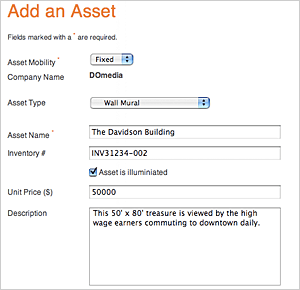 Adding Multiple Assets
If you manage multiple assets and want to upload your inventory to the Marketplace, you have two options:
Easy - Use our Bulk Asset Upload tool (found under the Marketplace tab) and follow the step-by-step instructions.
Easier - Simply contact one of our Account Representatives at 866-939-3663 anytime Monday – Friday, 8AM – 5PM EST. They will be happy to work with you to make sure your inventory is loaded correctly into the system.