The DOmedia Team
Learn more » Our Team | Facilitators | Business Development | Marketing | Client Services | Tech Team | Advisory Board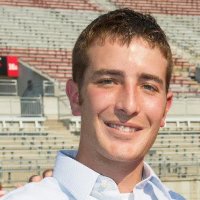 ben@domedia.com
Ben is a graduate with honors from The Ohio State University with degrees in biological sciences and business. He began his tenure at DOmedia as an intern in 2009, and has moved into a full-time Marketing Manager. He has a number of skills that are utilized throughout DOmedia with a specialization in website design, SEO, graphic design, online marketing, social media management and copywriting.
While in undergrad at Ohio State, he was the president of the infamous Buckeye Barbeque Club (OSU BBQ) and founded the philanthropic Buckeyes Give Back - the largest two student organizations at Ohio State. He currently remains involved as the advisor for both of these organizations. Along with running these phenomenal organizations, Ben was also the head lab instructor for the gross anatomy courses at Ohio State. At DOmedia we encourage everyone to pursue their goals - Ben's goal of becoming a doctor of cardiology is well in sight as he is in the application process for medical school.
In his very limited "free time," Ben enjoys kicking back with his family and friends, playing sports (basketball, golf, and sand volleyball), and moonlighting as a professional DJ around the Columbus clubs and night scene.
Five Questions with Ben
favorite quote: "I can accept failure, everyone fails at something. But I can't accept not trying" - Michael Jordan
best advice ever received: You can be whatever you want to be. The limiting factor is yourself.
hidden talent: Disc Jockey
favorite vacation spot: Siesta Key, Florida
dog or cat?: Dogs. Not even a question.