The DOmedia Team
Learn more » Our Team | Facilitators | Business Development | Marketing | Tech Team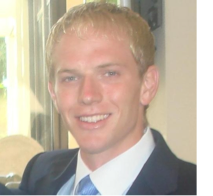 There's no denying that Alex is a "people-person" in the truest sense. He has traveled to 37 states, 13 countries (and counting) and is active in philanthropy and volunteerism. With a passion for people, Alex excels at maintaining client relationships. Actually, he'll do anything for a client and isn't afraid to admit it.
Before joining DOmedia and the start-up world, Alex was a Human Capital practitioner with Deloitte Consulting where he developed a data integrity process for client employee training. Alex also completed successful internships with Boeing Commercial Airplanes in their Financial Operations division in Seattle and at Worthington Industries in their Steel Finance Group. A proud graduate of The Ohio State University Fisher College of Business, he displayed his classic over-achiever style as Undergraduate Business Council President and a recipient of the PaceSetter Award, presented to the top 2% of the business school's graduating class.
Since you have to have someplace to hang your hat, Alex is happy to call Columbus home. When he's not trotting the globe, you can find him squarely in front of Ohio State's game du jour...which today happens to be men's basketball.
Five Questions with Alex
favorite quote: If you are distressed by anything external, the pain is not due to the thing itself but to your own estimate of it; and this you have the power to revoke at any moment. (Marcus Aurelius)
best advice ever received: "Be coachable" - Larry Baker
hidden talent: Vertical and standing long jump
favorite vacation spot: Indian Lake, Ohio
dog or cat?: Greater Swiss Mountain Dog
Adam is the very definition of "youthful exuberance." Always passionate about the projects he's working on (and many of those he isn't), he definitely keeps DOmedia on its toes. A bit of a "brainstormer," he's taken up permanent residence at the only desk overshadowed by a giant whiteboard. We may have to start hiding the markers...
As a product of Michigan (we still talk to him anyways), Adam had to make some major adjustments when he came to Ohio State. While attending OSU, he combined his two loves--business and travel--to graduate with an honor's degree in International Business, Economics and German. Before his reign over DOmedia whiteboards, Adam interned at iPharro Media GmbH, a tech start-up in Frankfurt, Germany, where he claims he first caught the entrepreneurship bug. He also spent some time at GE Aviation during a logistics quality co-op shortly before landing on DOmedia's door step.
When he's not enjoying the challenge, freedom and creative nature of the world of entrepreneurship, Adam loves traveling, jazz music and remains an active member of the OSU Business Builders Club.
Five Questions with Adam
favorite quote: Build the business you wish to see in the world. (Ghandi, paraphrased)
best advice ever received: Play the notes that aren't there. (Daniel Malone)
hidden talent: "Spricht jemand deutsch? Nein..." Yup, hidden.
favorite vacation spot: ...where the beer flows like wine and beautiful women instinctively flock like the salmon of Capistrano.
dog or cat?: Dogs--especially those singing Billy Joel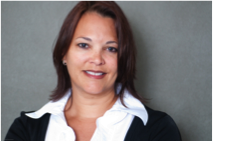 Kim is our in-house out-of-home media guru, keeping us up to speed with the latest industry news, research and trends. Having spent more than 15 years in the outdoor advertising biz, she knows the ins, outs, who's, where's and why's.... making her the perfect person to lead our business development efforts and foster meaningful relationships with other industry organizations.
Kim's illustrious career began with Leverock's Seafood House in St. Petersburg, FL as a media planner and buyer. From there, she entered the outdoor world in 1994, first with Patrick Media Group and later with Clear Channel Outdoor as a regional marketing manager. In 2003, she put her years of corporate experience to work for the entire industry, joining the Outdoor Advertising Association of America (OAAA) as their marketing director. In this role, she championed the growing media channel as both an informational resource and liaison with other advertising trade associations.
Drawing on her years of experience, Kim launched Out of Home Connect in 2006, a resource network and searchable database for alternative media (sound familiar?). With a common mission and vision, Out of Home Connect and DOmedia merged in 2008 and Kim joined the DO team, where she continues to advance the industry and help participants learn, grow and connect. If you like, she'll even come right to your office for a little OOH101. Yup, she's just that good.
Five Questions with Kim
favorite quote: Enjoy life. There's plenty of time to be dead. (Hans Christian Andersen)
best advice ever received: If it's not going to matter tomorrow, don't let it bother you today.
hidden talent: Ballet -- 13 years of classes
favorite vacation spot: Chile
dog or cat?: Cat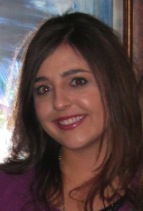 Queen of QA. Expert at Excel. Rockstar rollerblader. What more could you ask for? The perfect combination of left brain, right brain, Rachel combines her two interests--the creativity of marketing and the all business aspect of logistics--to become an all-star client services rep by day (vespa virtuoso by night).
An Ohio native, Rachel stuck to her roots by attending Ohio State University, graduating with an honor's degree in Business Admin with specializations in Logistics Management and Marketing. Before tackling the start-up world, Rachel served as the Director of Marketing and Public Relations for the Ohio Union Activities Board. She was also a marketing intern at Squire, Sanders and Dempsey LLP, as well as a logistics intern at Ashland Inc. Before graduating from OSU Fisher College of Business, Rachel participated in the Politics, Society and Law Scholars Program as an advisory board member.
When Rachel isn't plotting world domination, you can find her cruising down Lake Erie in her boat or checking out a history museum. And who knows... if you ask nicely, she may even take you for a spin on her vespa.
Five Questions with Rachel
favorite quote: I hate it when my foot falls asleep during the day because that means it's going to be up all night. (Steven Wright)
best advice ever received: Put on your rose-colored glasses (Mom)
hidden talent: I can name almost any song within the first five seconds of it playing.
favorite vacation spot: Salt Fork State Park
dog or cat?: Kittens!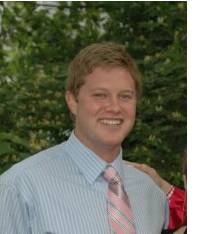 One thing is certain—Jacob Thomas' persistent attitude has served him well. His determination and desire to solve problems has guided him through stops in multiple industries on the way to DOmedia. Before his days of hustling subscriptions as a DOmedia Client Services Rep and now as a Key Account Manager, Jacob was only in it for the money... quite literally… as a Bank Stock Specialist. During his time at Community Banc Investments, Inc. Jacob advised financial institutions and individual investors in a very volatile market on micro-cap security investments as well as market management strategies for banks. After the banking crisis of 2008 Jacob took the next obvious step—as the brand manager at Vitality Distributing. It was his first stop at a private equity funded venture. At Vitality Jacob helped develop and promote Avitae caffeinated water while managing 20 brand ambassadors, creating sales relationships with national retailers and building brand equity at every turn.
After graduating from Wittenberg University, Jacob pursued the NFL, couldn't hack it and took the career route instead. His days of frolicking outside aren't totally behind him. In fact, Jacob loves all things outdoors… from the peculiar side effects of poison ivy to participating in triathlons. The man even swears he'll one day swim with great white sharks. But on a tamer note (if that's possible), Jacob is an avid live music enthusiast, with a count of close to 100 concerts under his belt. He began with The Rolling Stones at the ripe ol' age of 13! It's obvious Jacob's a lucky guy, and we consider ourselves pretty lucky to have him on our team (even if we don't fully understand the shark thing).
Five Questions with Jacob
favorite quote: If you treat a man as he is, he will remain as he is; if you treat him as he ought to be and could be, he will become as he ought to be and could be. (Goethe)
best advice ever received: Gotta stay alive till ya die. (Andrew Thomas)
hidden talent: I can kick stuff super far
favorite vacation spot: Cape Hatteras, NC
dog or cat?: Muts, cats look at me with an expression that says, "If I were bigger, I'd eat you."